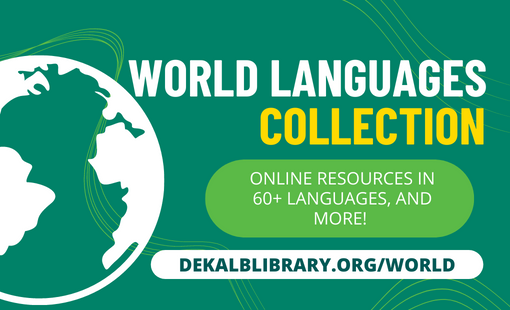 All of our World Lan­guage resources are now togeth­er on one page! You'll find direct links to our cat­a­log for our Chi­nese, French, Hin­di and Span­ish col­lec­tions. We have books in these lan­guages for all ages, and books can be request­ed and picked up at any of our libraries. We also added a direct link for DVDs in lan­guages from around the world.
We've round­ed up our online resources, too. Try Overdrive/​Libby and hoopla for eBooks, audio­books, mag­a­zines and music. Check Press­Read­er for news­pa­pers and mag­a­zines from 120+ coun­tries and 60+ lan­guages and Kanopy for movies, doc­u­men­taries and tv pro­grams from all over the world. Learn a new lan­guage from native speak­ers on Man­go.
We're excit­ed to add to our lan­guage resource offer­ings and make them eas­i­er for you to enjoy!